Starting at 12:30pm Riverbend Primary School, 1 Communal Road, Wyndham Vale - 3024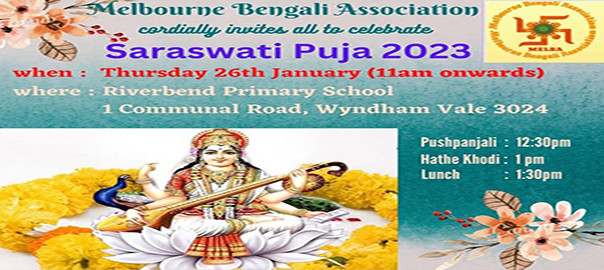 " MELBA extends a cordial invitation to your family and friends to attend Saraswati Puja celebration."
Date: Thursday, 26th January (Public Holiday)
Place: Riverbend Primary School
1 Communal Road,
Wyndham Vale – 3024
Kindly pre book for the food coupon by 23rd January.
Food coupons (per meal)
– Children under 4. FREE
– Children 4-12 years $15
– Adults $20
(NOTE : Saraswati Puja food coupons are included in Annual subscription)
A/c details:
Melbourne Bengali Association Inc
BSB : 013598
A/c : 3015-71149
PayID : info@melba.org.au
Please mention your name and number of coupons required in the reference field.
Happy Saraswati Puja
Event Details
Riverbend Primary School, 1 Communal Road, Wyndham Vale - 3024