Starting at 7:30pm The Grange Community Centre, 260-280 Hogans Road, Hoppers Crossing - 3029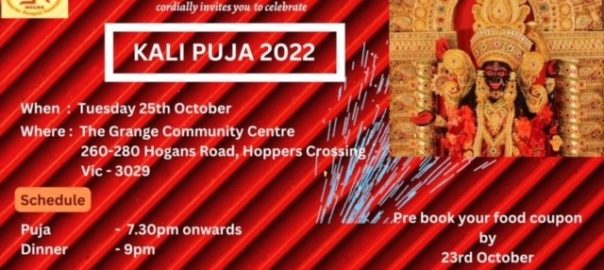 " MELBA is now gearing up for "KALI PUJA 2022"
Date: Tuesday, 25th October
Place: The Grange Community Centre
260-280 Hogans Road,
Hoppers Crossing – 3029
You are all requested to pre-book for the food coupon by 23rd October.
Food coupons (per meal)
– Children under 4. FREE
– Children 4-12 years $15
– Adults $20
A/c details:
Melbourne Bengali Association Inc
BSB : 013598
A/c : 3015-71149
PayID : info@melba.org.au
Please mention your name, day/time of attendance and number of coupons required in the reference field.
Happy Kali Puja
Event Details
The Grange Community Centre, 260-280 Hogans Road, Hoppers Crossing - 3029